I'm PHOreal! PHO TAI RESTAURANT SERVES HEARTY AND ETHNIC DINING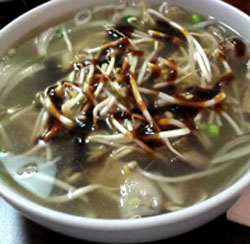 When a restaurant offers cheap, yet high quality food, you absolutely cannot pass it down. Pho Tai offers Thai and Vietnamese cuisine, ranging from brothy soups to stir-fry plates. To me restaurants need to be well priced, have a variety of dishes, and obviously delicious! Pho Tai fits the bill to a tee if not exceeds.
Pho Tai is both a Vietnamese and Thai restaurant. On the Vietnamese side, cold vegetable noodle bowls called "vermicelli bowls" and a hot, savory noodle soup called "Pho" dominate the menu. I like Pho Tai's vermicelli bowls, because of their fresh veggies and mouthwatering vinegar sauce that accommodates the soft rice noodles. However, hands down, my absolute favorite Vietnamese dish to order is the Pho.
Pho is pronounced like fur, but with a silent r. Pho is a rice noodle soup and the broth is to die for. The soup is hot, herby, and meaty. The noodle soup comes with a side dish of bean sprouts, cilantro, lime, green onions, etc. You can add whatever veggies you like and the tables at Pho Tai always hold multiple sauces. The optional additives range from Hoisin sauce to chili oil.
I always order #19 which is Pho with eye round steak and Vietnamese meatballs for $8. Pho is great because you can really change the taste of the soup to your liking. I prefer my pho slightly spicy and savory. I achieve that taste by changing which and the amount of sauce I add.
Another pho lover shares his preference, "#29 pho is my favorite, it comes with all kinds of meat and vegetables," says Nathan Her '19.
On the Thai menu, I order the classic: #N7 Pad Thai for $9. At Pho Tai you can get your Pad Thai cooked with thin glass rice noodles instead of the thicker rice noodles. I always go for the rice noodles. Pho Tai makes their Pad Thai super flavorful, spiced and seasoned perfectly.
Another Thai food craver suggests his go-to, "I usually get #F4 pineapple fried rice with spicy chicken. It's combined with so many things," adds Brandon Xiong '16.
If you are looking for a little something light, I recommend their crispy rolls or fresh rolls. For drinks go for their amazing Thai tea or mango bubble tea. Pho Tai has it all.
I've been to numerous Pho serving restaurants.  Other restaurants such as Pho Hang and Thuy Tran, both in Madison Heights, simply do not make their broth like Pho Tai. At Pho Hang, I ordered pho with meatballs and flank. Their pho does not have that salty, aromatic broth that Pho Tai has. Without a doubt Pho Tai is the best place to get your pho fix.
If you're looking for heavenly, filling meals, Pho Tai is the way to go. The portions are huge, you can always take leftovers home, and you can even order take out. I most definitely will be going in the near future for my pho fix. Come to Pho Tai on 30577 Dequindre Road Madison Heights, MI 48071 and opened 10:30am-9:30pm Tuesdays-Sundays.