Shoes Are A Boy's Best Friend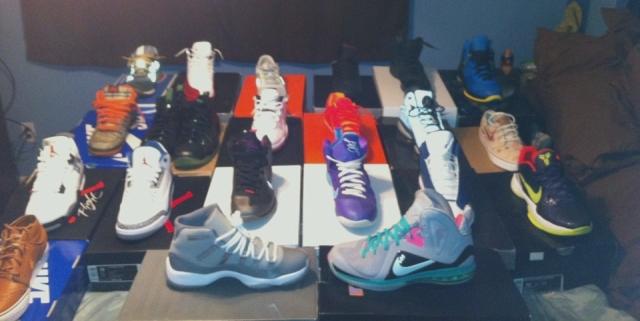 Joseph Conner, Cassidy Johncox
February 28, 2014
Many people can say that there comes a point in their life when they have too many shoes. Not so for Robert Pylak '15, who is the proud owner of nineteen pairs of shoes and counting. Even teachers and students have noticed that every day Robert will most likely have on a pair of never before seen shoes. Robert began loving shoes when he was eleven years old, and hasn't stopped shopping since.
Collecting shoes is not just about style, but is fun for Robert too. At a young age, Robert began to collect shoes because he thought they were an interesting part of an outfit and wanted to look nice for the ladies. Not everybody knows that there are different shoes for almost every activity possible and a unique design for each of them. Basketball shoe, for example, have a curve in the bottom so that your feet are not flat, but skateboarding shoes are flat because it provide a grip that makes staying on the board a whole lot easier. This is what got Robert hooked; he enjoyed the process of learning all of the unique designs and functions that shoes have to offer.
His collection may be vast but his favorite, without a doubt, would be his pink Air Force One high-tops, mostly because they're very flashy and Robert is one to stand out in the crowd. Most of his shoes are purchased at Somerset Mall since it holds the broadest selection of shoes, other than shopping online. Footlocker is his favorite store to buy his shoes from.
"If you want some nice shoes, go to Footlocker and you'll find what you need," Robert said.
So next time you're looking for some new kicks, just stop by any local Footlocker and maybe you'll see Robert picking out his next pair.