College Football Bowl Game Shakeup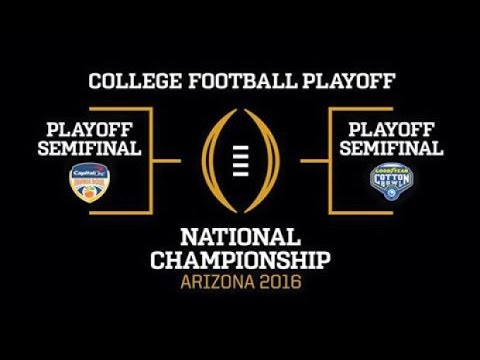 Many people in the sports world were shaken this year when choosing the final top 25 and the top four seeds in the College Football Playoffs. Especially when #2, #3 and #4 all lost in week 11 to lower ranked opponents. Selection Sunday was very interesting when the committee was forced to pick what they believe the best four teams in the nation, when a bunch of teams had a similar record with the similar strength of schedule.
ORANGE BOWL: #6 Michigan (10-2) will face off against #11 Florida State (9-3). Key players: Michigan's Jabrill Peppers who has 67 tackles, 4.0 sacks and, 1 interception this year. Florida State's Dalvin Cook who rushed 268 times for a total of 1620 yards. This is going to be a good rushing game when both teams combined for over 5,000 rushing yards this season. Although Florida State is ranked 11 in the country they have no strength of schedule like Michigan did, because of this Michigan should be playing with attitude from the Ohio State game and run away with the game. Final Score Prediction: Michigan 38 to Florida State 17.
SUGAR BOWL: #14 Auburn (8-4) will face off against #7 Oklahoma (19-2). Some key players to watch are Baker Mayfield from Oklahoma who has 38 touchdowns to 8 interceptions this season, and Jeremy Johnson who has a 75 percent pass completion this year. This game should be a huge passing game with two great athletes taking the shots at quarterback. Although Oklahoma is a good #7 team I think auburn will pull the huge upset. Final Score Prediction:  Auburn 17 Oklahoma 14.
ROSE BOWL: #9 USC will play the Nittany Lions from #5 Penn State. Penn State missed the playoffs because of their lopsided loss at Michigan. Both teams are stacked with key defensive players. The team with less turnovers is going to win this game. Final score prediction: Penn State 10 and USC 6.
COTTON BOWL: #8 Wisconsin will have to face a very tough and disciplined #15 Western Michigan. This game will feature a team fighting to get looked at by bigger conferences, and a team that argumentally should have won the big ten over Penn State. Western Michigan is known for coming back in the second half, and Wisconsin was up 21 points on Penn State and ended up losing. Final score prediction: Wisconsin 17 to Western Michigan 28.
PEACH BOWL: #1 Alabama will play a struggling #4 Washington team. Alabama is continuing to roll but they have not really faced a top 10 team. Washington has played against some pretty tough teams including a tough loss at Clemson. Final score prediction: Alabama 17 Washington 21.
FIESTA BOWL: #2 Clemson will play what many consider the best team in the playoffs against #3 Ohio State whose only loss came against a well disciplined Wisconsin team. Clemson has played a few games where they look shaky near the end and Ohio State will capitalize on it. Final score prediction: Clemson 28 Ohio State 31.