VARSITY VOLLEYBALL WINS MAC GOLD TITLE; FOCUSED ON TAKING DISTRICT TITLE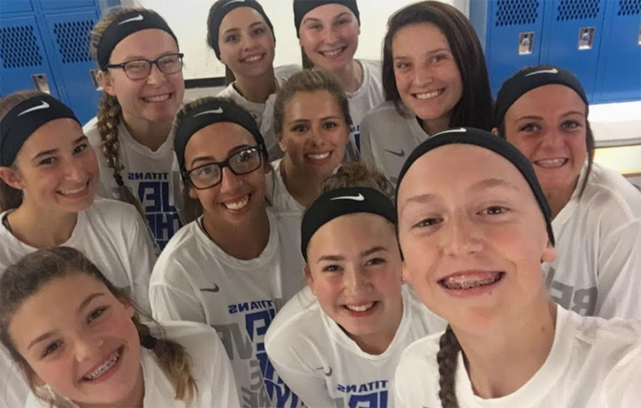 Taelor Varner, Editor
October 20, 2017
9-0. Undefeated. It's a tough feat to accomplish in a sports season, but the WWT Girls Varsity Volleyball team has done just that. They also secured the title of MAC Gold Champions with a victory over St. Clair. They also hope to move up from MAC Gold to MAC Blue next season.
Captains  Kiley Nitz '18 and Samantha Blalock '18, are proud of what the team has been able to accomplish so far this season. "We set three goals at the beginning of the year: go undefeated, win the division and win districts. We've been able to do two of the three and now we are focused on the final goal of winning districts," Blalock said.
Staying undefeated has not been easy. The team, coached by Mr. Aaron Nitz, faced tough competition from Marine City when the Titans fell behind early, losing the first two sets. However, the girls refused to give up and came back to grind out a victory by winning the final three sets. Each set score was extremely close making this victory especially sweet. "No matter how bad the game is going, I can always count on my team to get it together and win," Gabrielle Erison '19 said.
St. Clair also posed a threat to the team. But in the end, the girls prevailed every time but each match was tough with the last one going the distance at 5 sets.
Contributions from seniors have been an important factor in key victories. Taylor Diamond leads the team in digs as the Libero. Blalock has an astounding 300 kills on the season so far. "Nitz plays outside hitter and picks up all the poor balls and still manages to make a play on them," Blalock said. Agueros finishes out the fierce foursome with key blocks from the outside.
Attention is now turned to the district match up with Frasier on October 30. The Titans faced Frasier in non-conference tournament mid-season and split their two matches. They plan to take what they learned from those matches and translate it to wins.
Team bonding is an important element to the girls and they feel it has helped in their success. They traveled to an early season tournament in Muskegon where they stayed overnight. In their free time, they went out to eat and spent most of their time on the beach. They did a bit of swimming but most of the time they kept matches of beach volleyball going. The Titans took the title at that tournament.
The team isn't afraid of tough work. They actually began their season at the beginning of summer with 3 hour practices two times a week. The hit the weight room for arm and leg workouts and consistently spent time on jump training, scrimmaging, and position focus.
There is one regular season game left against Mott on Tuesday, October 24.