Students experience a taste of Mexico
November 1st and November 2nd mark an important holiday for Mexican culture and forty-five lucky students were able to celebrate El Día de Los Muertos (The Day of the Dead) on a field trip to the Detroit Institute of Arts (DIA) and Mexicantown in downtown Detroit.
The first stop of the journey was to the DIA. After a recent Spanish III and Spanish IV project on Spanish painters, Profesora Rokicki wanted students to be able to experience Spanish art up close and personal, especially with the renowned mural at the center of the building painted by Mexican artist Diego Rivera. "I liked being able to explore and see Rivera's mural, " Spanish Club historian Cassidy Allen '12 said, "Especially since all his other artwork in the United States was painted over."
During lunch time, the students dined at Xochimilco, a two story Mexican restaurant on Bagley Street. From enchiladas to taco salad, they were able to experience a taste of authentic Mexican food. "The food was good and different from what we view as Mexican food," Cassidy said.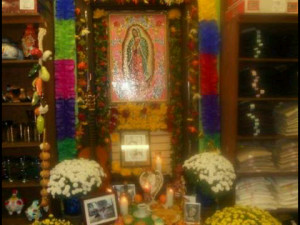 Afterwards, students broke off into groups and browsed the stores of Mexicantown.  One of the highlights for most was a visit to the La Gloria bakery at the corner of Bagley Street. The bright pink building was known for containing some of the cheapest yet most delicious of Mexican baked goods. "I bought churros from the bakery," Rachel Toth '12 said, "they were delicious." Across the pedestrian bridge there was a tortilla factory where students, like Rachel, "learned how to make tortillas."
Tokens of El Día de Los Muertos were present all around the area. Altars lined the walls of the many stores on the small block. Ofrendas, or offerings, sat on the tables next to candles, vibrant streamers, and pictures of the deceased. "It's [The Day of the Dead] is a cool holiday that gives honor," Cassidy said, "Instead of having just one funeral to remember someone they celebrate year after year so they're constantly remembering them."
"I find Mexicantown very interesting because everyone stereotypes Detroit as all bad, but some parts are very unique and diverse." Rachel said, "I would definitely go again."