Lip Dub: Entering its final stages
As most of the school knows, we've been challenged by New Haven High School in a competition to create the best lib dub video. For weeks, this event has been talked about, and as it winds down into the final stages of production, the students have a few finishing touches to make before it can become the masterpiece it's hoped to be.
Recently, creation of the Homecoming like banners has ended. It took the crew a good two weeks to finish, but production of that section has completed. They will be put up very soon, and will be fashioned in the commons as they were during homecoming week. The video itself will be trying to recreate the Homecoming feeling.
The next focus in the production of the video is the action, most particularly the actors who will be taking the focus of the camera. Several students have signed up, helping to fill the casting call of around forty people. The more dedicated and helpful students will be needed to help.
"I decided to sign up because I saw a lib dub from California." Said Lindsey Kroll '13, "And it inspired me to help out." "It's gonna take 110% of my energy to do this right" Said Shayne Mahon '13. The actors have to meet every day after school, while background members will be placed on the day of the shoot.
Mr. Martin is preparing the actors for next Wednesday, with the routes being practiced and timed over and over again. "The practicing is going as expected, and now it's time to rehearse" Said Mr. Martin. He's very confident that the video will be done on time, despite obvious issues that will obstruct the production. "Organizing every student towards a goal of finishing this video will be the biggest challenge" he says, but he's still certain that it can be done.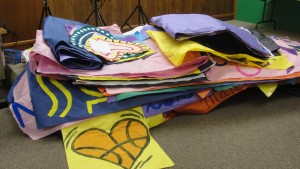 Now, in the final stages of the pre-production, there are meetings in Mr. Martin's room every day after school. If you're going to participate, have your energy ready, you'll be running all over the school. The video will be recorded on Wednesday before Thanksgiving, taking the whole half day to produce. It is urged that everyone try to help out.