"CAN'T STAND STILL" WATCHING THE SPRING MUSICAL PRODUCTION OF FOOTLOOSE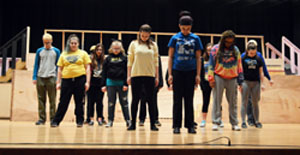 The WWT Spring Musical is preparing to knock your socks off with the Broadway production of Footloose. The cast and crew are almost ready to raise the curtains on the show of a lifetime. Many know how the story goes with seeing the movie, but seeing your classmates preform and adding their personalities into the show is something you will not want to miss.
Ren McCormack (Evan Mach) and Ariel Moore (Hannah Mitchell) rebel against Reverend Moore (Zac Sikes) to once again be allowed to dance in the town of Bomont. The town shut down after a car accident that killed 4 children that had very bright futures including the future of Reverend Moore's son. The down closed up and all aspects of fun were banned, until Ren McCormack moved to town.
As opening night comes closer, the cast is working in overdrive to make sure everything goes smoothly. Director Amy Ricker, in her 3rd WWT production, is currently running the show to work out the problems and have it Tech Week ready. During tech week the cast has 6 hours of rehearsal. There are plenty of things to do at each and every rehearsal. "It always depends on the day but we are currently running through the show and tweaking dances, songs, and scenes. We are always trying to put the pieces together to see the bigger picture," Evan Mach '17 said.
Some of the performers have been waiting for this moment forever. They have all been making preparations for when the curtains open. "I'm very excited about the show, we've been working so hard on it, and it's so clear that we care about this show and I can't wait for everybody to see all of the hard work and dedication that we've put into this. I'm also pretty nervous, but who wouldn't be? Even though we've worked hard, mishaps happen all the time and I'm just hoping that all of the shows go smoothly. I'm pretty confident on my lines, I just want to perfect them a little more," Hannah Mitchell '17 explained.
It's hard to imagine how someone would be able to memorize so many lines and songs on top of doing their school work and maintaining good grades. These students have been studying the script while still putting in the work into the classroom. "For me, it's just like how any athlete prepared by practicing. We practice our trade and we memorize our lines the way athletes would memorize their plays," Mach 17 stated.
Cast members include:
Myles Baber, Jordan Ball, Abigail Bell, Allison Bell, Maria Benson, Mariya Benson, Logan Brown, Samantha Childs, Jenna Davis, Shanna Dynia, Katrina Fortune, Erica Geml, Carsten Gregersen, Jaclyn Hanna, Emily Harrison, Steven Kaiser, Julie Kastelan, Evan Mach, Hannah Mitchell, Faith Olesky, Tanashia Perry, Shelby Pronek, Victoria Rivers, Caroline Scheall, Estephaan Shamoon, Zac Sikes, Monika Szabat, Melody Tanceusz, Elizabeth Virden, Lexi Young, and Michael Wojdylak.
"Its a smaller cast but it's truly full of talent. This is where you get to see amazing singers and dancers perform," Mach '17 said. "You get to hear songs such as "Holding Out For a Hero", "Almost Paradise", and the well known Broadway hit "Footloose.'"
The production opens March 24th and 25th  at 7:00 pm and on March 26th the show will begin at 2:00 pm. Make it out to Warren Woods Middle School one day over the weekend to support the Drama Club.  It is encouraged that you also bring your friends and family. Tickets are $12 for adults and $10 for students and seniors.
Just because you have already seen the movie does not mean you shouldn't come watch the musical. This show will be different than anything you ever saw. ""This is different from the movie because the personalities you see on stage are personalities that you see every day in school from the actors and actresses that perform those roles," Mach '17 stated.
Make an appearance at Warren Woods Musical to support your fellow classmates and see them show off their amazing talents guided by Director Amy Ricker. LIGHTS! CAMERA! ACTION!