BAM-WHO? BAMBU FRANCHISE WORTH A TRY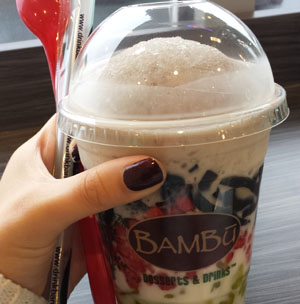 I'm craving something that is sweet, visually appealing, and cheap…where do I go? I hop in my car and drive to Madison Heights's newly opened "Bambu" dessert and drink shoppe. I loved the vibe and appearance of the store as soon as I pulled into the lot. Bambu earns five stars for price, presentation, and taste.
The Bambu store sits on the corner of an Asian plaza on John R Road. Outside are eye catching LED lights, and inside is an inviting lounge area. The shop is cozy, but not too small. The lounge area includes a wooden bar set above stools to enjoy your drink and the outside view. The cash register sits on a granite countertop and beside it sits an adorable dessert case. The case holds miniature macaroons and cheesecake. Behind the counter are three large screens, listing the electronic menu.
The menu was visually appealing with its large selection and item previews. And the best part, in person, the desserts/drinks looked exactly how they did in the pictures! I could see every ice cube, every jelly, and every coconut slice. "The main ingredients in each drink are fresh coconut and coconut juice," says Bambu owner Nick Nguyen. The presentation of the store and drinks was perfect.
I ordered the "Bambu Favorite #10" which was a coconut milk drink with pandan jelly, red tapioca, and grass jelly. The first sip was definitely the best. The first flavor that hit my taste buds was the subtle, sweet coconut. Next, I chewed on the red tapioca, the pandan, and the sweetest, the grass jelly. Every sip had me thirsting for more. "All the drinks are freshly made, everything is fresh. We get the ingredients from supplies around the area," shares Nguyen.
"I had the honeydew smoothie, it was pretty good," adds Cedes Yang '17.
My jelly packing, coconut drink only costed $4.77 (with tax). To those who have never had bubble tea, it seems expensive but really isn't. "The most expensive drinks are those with the coconut because we actually use the whole coconut," explains Nguyen. The drinks contain real, fresh coconut, and at least three types of jellies. To buy all of that on your own would cost way more than $5.00. The price is just right at Bambu.
The delicious, perfectly priced, and presented drinks at Bambu have certainly gained a regular customer. Anytime I'm craving sweet coconut, I'll be heading to Bambu. Bambu is located on 30804 John R Rd, Madison Heights, MI 48071 and is open from 10 am-9pm on Mondays, Tuesdays, Thursdays, and Sundays and on Friday and Saturday 10am-10pm.