Aspiring Sophomore Chasing After Her Dream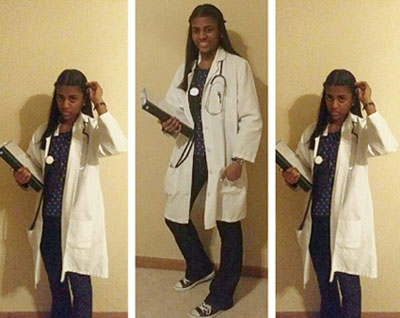 By the time we all get to high school, more and more people begin to ask us about our future career plans.  While there are many students who still don't have an answer to this question, there are those who know exactly what they want to do with their life and what they need to do in order to accomplish those goals.  For Brea Gosine '17, she is already preparing to take the next step towards fulfilling her dreams.
Brea has had her mind set on what she wants to be when she gets older for quite some time now.  "It is my ultimate goal to become a pediatrician, prevent diseases, and maintain the health of children," Brea shared.  In order to further her career, Brea has received a nomination to participate in the People to People Ambassador Program Leader Summit in Baltimore, Maryland.  If Brea partakes in this program, she will be able start gaining some experience in the medical field to see what it's really like.
Unfortunately, the cost of the program is very expensive and Brea is asking for some financial support.  If you would like to make a donation for Brea's trip, please log on to http://www.gofundme.com/nomxb4 .  "Any size donations are welcome and greatly appreciated," Brea added.