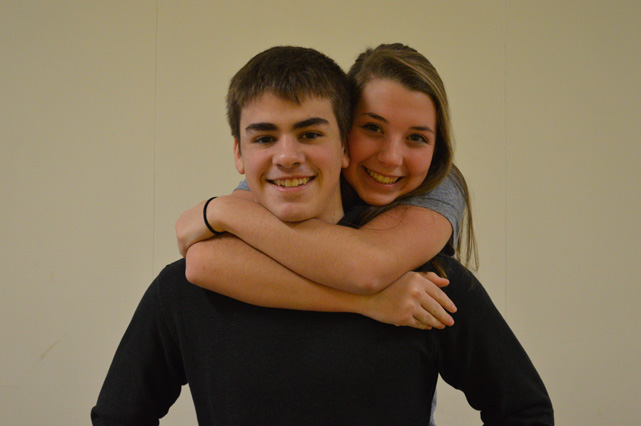 As we reach the end of our not so cold winter, the last hallmark holiday approaches…Valentine's Day! February 14th is the day to express your love through chocolate, flowers, and stuffed teddy bears. Restaurants and movie theaters are filled with couples celebrating their love. Old couples look back on old memories. New couples look to the future. All in all, the couples at Tower, new and old, definitely have plans to spend the day with their loved ones.
Sophomore couple Lacie Doehring '18 and Trey Barbour '18 go way back. They have been a couple for a few years now. "We've grown up together since the 2nd grade. We ended up talking because we started having classes together. We will have been a couple for 2 years this upcoming March," shares Trey.
Having known each other since elementary, the couple had their first kiss shortly after. "Our first kiss was actually in the 4th grade. I was her first. It was outside one of our friend's house when we went for a walk. I still remember it, because our noses had touched when we kissed," reveals Trey.
Valentine's Day is all about being true to your feelings. Lacie and Trey are no exception. "We don't have to always be with our friends partying. We can stay home, chill and be perfectly fine. I like him because he is different from everyone else. He is perfectly fine with how I am now and doesn't try to change me. And he wants the same things I want out of life," admits Lacie.
Lacie and Trey are happy together and that's all that matters. Valentine's Day is just another day for them to cherish and love one another.
Unlike Trey and Lacie, Senior couple Mister Whitfield '16 and Rayna Walker '16 are in the first few months of their relationships. Before they even started dating though, Mister was always a gentlemen. "I was always taught to get a father's approval before dating their daughter so I knew what I had to do to be able to call this beautiful girl mine," states Mister.
Even though it's only been a short time, their memories make it seem like it's been forever. "It feels like 17 years but has only been 3 months," says Rayna.
Those memories do include their first kiss! "Our first kiss was on our first double date with Shariq and Reneh. We were at a park where they have a mini maze. We were hiding from each other. Once we found each other it just happened," explains Rayna.
Despite being a new couple, Mister and Rayna's feeling are certainly not underdeveloped. "She makes me feel like I'm the luckiest guy in the world. She treats me like I deserve the whole world but I just need her in mine," expresses Mister.
"He makes me feel like a Queen. His love for me is so strong i can feel it a mile away. I never thought i would meet someone who could prove to me that their love is unbreakable," gushes Rayna.
Similar to Lacie and Trey, Mister and Rayna have smaller plans for Cupid's Day. "We're just going to be spending as much time together as we can. Maybe have a movie night," concludes Mister.
Like the couples of Tower, spend Valentine's Day with your loved ones! Whether it's out on a fancy dinner, or watching a movie, tell them how much you love them! Happy Valentine's Day!