PBA Midwest Region Manager Rich Weber Announces Retirement After Three Decades of Service to PBA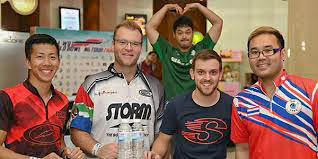 Hang on for a minute...we're trying to find some more stories you might like.
Rich Weber, the oldest PBA legend announced his retirement and will retire from the PBA active duty by the end of if this year, he has been in this organization for 30 years now. He concludes his latest role as PBA Midwest Region manager when he supervises the PBA50 Victory Lanes Midwest Open presented by Allstate in Kankakee, Ill., over the Nov. 30-Dec. 2 weekend. Some inspirational quotes he had said was "The most fun I had was running the senior tour," Rich said. "It was a close-knit group. We needled each other, played golf together, had dinners…it was an amazing time. Beyond his service to the PBA, Rich also has been the personal coach to his youngest brother – 37-time PBA Tour champion Pete Weber – throughout Pete's career. PBA CEO and Commissioner Tom Clark was among many players, proprietors and industry leaders who expressed their thanks to Weber for his contributions to the sport.