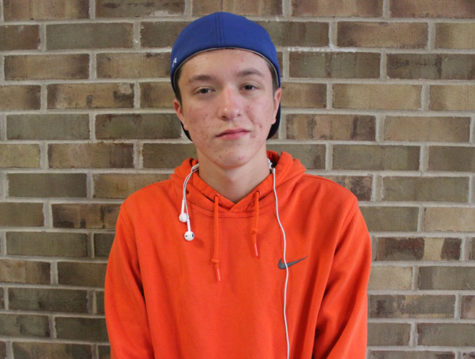 Favorite module to write in:
Sports, it's the only module I find interesting and I know it's what I can write the best. 
Favorite music artist/group:
Bandgang. 
Favorite thing about WWT:
I like the size, I feel like I know most people on some level. 
Favorite TV show(s):
Shameless. 
One thing to accomplish before graduation:
Make sure I graduate and just move on with my life. Fun fact: I like to write.
Mitchell Moore, ㅤ
Apr 30, 2018

NBA PLAYOFFS PICTURE 2018

(Story)

Mar 29, 2018

TIGERS BASEBALL GEARS UP FOR 2018 SEASON

(Story)

Mar 29, 2018

FINAL FOUR SET TO FACE OFF

(Story)

Mar 13, 2018

TITAN WRESTLING SEASON RECAP

(Story)

Mar 09, 2018

FORTNITE BATTLE ROYALE SWEEPS THE NATION

(Story)

Feb 12, 2018

KING JAMES AND COMPANY STRUGGLING?

(Story)

Jan 30, 2018

EAGLES AND PATRIOTS GEAR UP FOR SUPER BOWL LII

(Story)

Jan 29, 2018

TITAN WRESTLERS POWER THROUGH THE SEASON

(Story)

Jan 23, 2018

TOWER BASKETBALL SEASON UPDATE

(Story)

Dec 07, 2017

THE SILVERDOME HAS ONE FINAL UNEXPECTED SHOW

(Story)

Nov 30, 2017

TURKEY DAY SHOWDOWN

(Story)

Nov 01, 2017

TITANS SHUT OUT HAZEL PARK; TO FACE HARRISON

(Story)

Oct 26, 2017

JABLONSKI GOES ALL-COUNTRY

(Story)

Sep 26, 2017

VARSITY SOCCER TAKES ON THE 2017 SEASON

(Story)

Sep 21, 2017

CINATO SCORES BIG ON THE ICE

(Story)

Jan 10, 2017

PRATER HELPS LIONS IN KEY VICTORIES OF 2016 SEASON

(Story)

Dec 08, 2016

Detroit Lions Continue Win Streak; Sit at Top of Division

(Story)