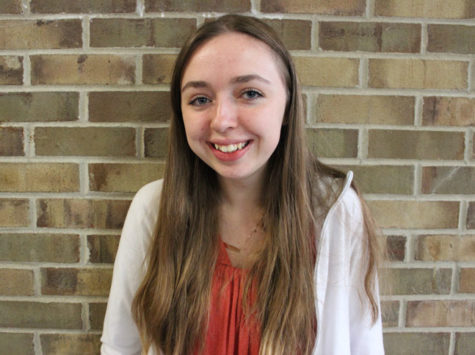 Favorite module to write in:
I like to write news stories because they're short and sweet. 
Favorite music artist/group:
It varies, I like many different genres. 
Favorite thing about WWT:
I love spirit week. Everyone puts forth a lot of effort into making it fun and enjoyable. 
Favorite TV show(s):
This Is Us 
One thing to accomplish before graduation:
I want to set goals for myself now that I hope to exceed in the future.
Marissa Rankin, ㅤ
Apr 20, 2018

ONLY 40 YEARBOOKS LEFT- GET YOURS BEFORE THEY'RE GONE!

(Story)

Mar 01, 2018

TITANS SPREAD LOVE IN THE MOST AMAZING WAY POSSIBLE

(Story)

Feb 16, 2018

SIGN UP FOR THE WWT TALENT SHOW! (SIGN UP SHEETS WILL BE FOUND IN FRONT OFFICE)

(Story)

Feb 14, 2018

NAHS CREATES VALENTINES FOR VETERANS THIS VALENTINES DAY

(Story)

Feb 08, 2018

TITANS WELCOME OUR NEWEST FOODS TEACHER

(Story)

Jan 30, 2018

HEALTH SUMMIT INSPIRES SENIORS NEAR FUTURES

(Story)

Jan 18, 2018

'PITCH PERFECT 3' CALLS 'THE BARDEN BELLAS' TO THE STAGE ONE LAST TIME

(Story)

Dec 06, 2017

TITAN TICKETS MAKE A RETURN TO WWT

(Story)

Nov 13, 2017

WARREN WOODS WINS BOND APPROVAL

(Story)

Oct 30, 2017

TITAN TERRACE PLANS 2017 OPENING FOR WEDNESDAY, NOVEMBER 1ST

(Story)

Oct 24, 2017

DO YOU WANT TO BE IN THE YEARBOOK?

(Story)

Oct 20, 2017

NEW BUNNY PROVIDES EMOTIONAL SUPPORT TO ALL

(Story)

Oct 16, 2017

MANUFACTURING DAY INSPIRES STUDENTS AMONG WWT

(Story)

Sep 29, 2017

NEW SCHOOL YEAR, NEW FACES

(Story)

Oct 20, 2015

WIA PROVIDES EMPLOYMENT OPPORTUNITIES, AVAILABILITY IN PROGRAM

(Story)