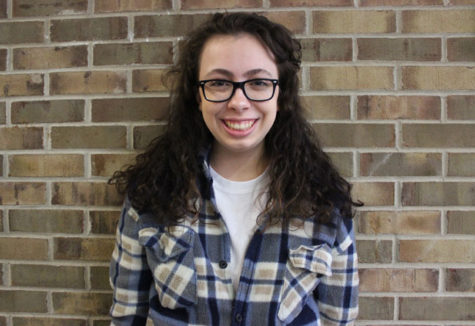 Favorite module to write in: 
Editorial, it's solely based on my opinion and most of the time on a topic I love/enjoy. 
Favorite music artist/group: 
Billy Joel. 
Favorite thing about WWT:
Choir never seems like an actual class and each year the students all become like a family. 
Favorite TV show(s): 
The Office. 
One thing to accomplish before graduation: 
I want to be more involved in school-related activities, to make some sort of impact on the school. 
Fun fact: 
I know all of the words to the song 'We Didn't Start the Fire.'
Autumn Okuszka, ㅤ
May 04, 2018

YOU WANT PAST AND PRESENT SLIDESHOWS? WE'VE GOT 'EM!

(Story)

Apr 23, 2018

PROM 2018 – WHAT YOU NEED TO KNOW

(Story)

Apr 20, 2018

SENIOR WILLS & OTHER FUN SENIOR ITEMS ARE DUE BY 4/27

(Story)

Feb 07, 2018

SPOILER ALERT! 'THIS IS US' REVEALS HOW BELOVED CHARACTER DIES

(Story)

Feb 07, 2018

THE CAMPUS CORNER HAS BALLOON SALE TO CELEBRATE VALENTINE'S DAY

(Story)

Feb 06, 2018

'9-1-1' TELLS THE STORY OF THOSE BEHIND THE NUMBER

(Story)

Jan 30, 2018

WE WANT PICTURES OF YOUR PETS!

(Story)

Jan 23, 2018

'THE GREATEST SHOWMAN' BRINGS THE PAST TO THE PRESENT

(Story)

Jan 22, 2018

SAY HELLO TO YOUR DIVISION 1 RATED SELECT CHOIR

(Story)

Jan 11, 2018

"JUMANJI: WELCOME TO THE JUNGLE," THE SEQUEL THAT WAS YEARS IN THE MAKING

(Story)

Dec 06, 2017

THE BEST WAY TO SPREAD CHRISTMAS CHEER, IS PARTICIPATING IN WWT'S HOLIDAY SPIRIT WEEK!

(Story)

Nov 20, 2017

'DADDY'S HOME' AGAIN, BUT WILL THE SEQUEL LIVE UP TO ITS PREDECESSOR?

(Story)

Nov 15, 2017

'THROW' IN YOUR MONEY, ONLY $1 FOR THE CHANCE TO PIE A TEACHER

(Story)

Nov 10, 2017

SENIORS! WERE YOU ACCEPTED TO A COLLEGE? READ THIS!

(Story)

Oct 26, 2017

YOU CAN NOW COMMENT ON OUR STORIES!

(Story)

Oct 26, 2017

PUERTO RICAN STUDENT SHARES HOW BADLY PUERTO RICO HAS BEEN AFFECTED BY RECENT HURRICANES

(Story)

Oct 25, 2017

THE 'AMAZING' SPRING MUSICAL THIS YEAR IS…

(Story)

Oct 24, 2017

ALUMNI JOIN TOGETHER TO CREATE A MORE 'PEACEFUL' ENVIRONMENT AT WWT

(Story)

Oct 23, 2017

'THE GOOD DOCTOR' BRINGS AWARENESS AND PULLS HEARTSTRINGS

(Story)

Oct 19, 2017

YOU CAN HELP WWT BE FULL OF 'PEACE' THIS SATURDAY!

(Story)

Oct 19, 2017

SENIOR PROVES JOBS CAN BE FUN THIS HALLOWEEN SEASON

(Story)

Oct 19, 2017

OPERATION TASTY FREEZE – VOTE NOW FOR THE CAMPUS CORNER TO RECEIVE A $750 GRANT

(Story)

Oct 12, 2017

MEET YOUR TITAN NATION STAFF!

(Story)

Sep 27, 2017

THE CAMPUS CORNER IS BACK OPEN FOR BUSINESS

(Story)

Sep 18, 2017

SPIRIT WEEK, PEP RALLY, AND HOMECOMING!

(Story)

Sep 18, 2017

THE TRIP OF A LIFETIME, SENIOR VISITS BANGLADESH ON A MONTH-LONG VACATION

(Story)

Sep 14, 2017

FOLLOW OUR TWITTER!

(Story)

Dec 20, 2016

'MOANA' WARMS AUDIENCES' HEARTS; MAY THAW 'FROZEN' POPULARITY WITH YOUNG VIEWERS

(Story)

Dec 09, 2016

WHY 'THIS IS US' IS THE BEST SHOW TO COME OUT THIS FALL SEASON

(Story)

Nov 18, 2016

SOPHOMORE DOMINATES IN WKC WORLD CHAMPIONSHIP

(Story)

Nov 11, 2016

TWO NEW CLUBS INTRODUCED TO WWT

(Story)

Nov 04, 2016

WHAT IT'S LIKE TO BE IN 'THE ROOM WHERE IT HAPPENS'

(Story)